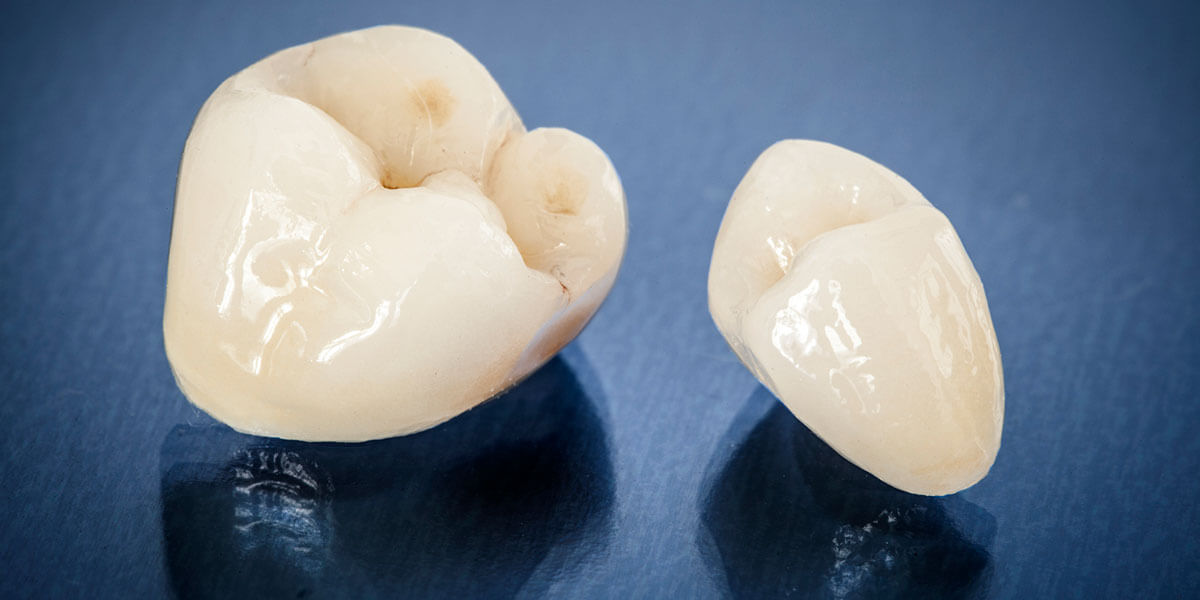 ---
If a tooth has more extensive decay, a dental crown may be the ideal aesthetic and functional restorative solution.
---
Choosing to have a crown placed can preserve the natural tooth, which is always the goal as preserving the natural teeth helps maintain the supporting bone structure and stability of the surrounding and adjacent teeth.
The first step in the process is to take an impression that will be used to make a model of the teeth and bite.  This allows the crown to be made to look and function like your natural tooth.  The tooth will then be prepped, with the decayed areas being removed. An impression of the prepped tooth will be made so that the final crown will fit properly when it is placed.
Sometimes the final crown can be placed on the same day but other times a temporary crown will be placed while your final restoration is being created. Crowns often last a lifetime with proper care and oral hygiene.
---
There are four common types of crowns:
---
Ceramic
This type of crown is often used for teeth that are visible when smiling as they are made from a porcelain-based material that retains the look of your natural teeth.
---
Porcelain Fused to Metal
These crowns are known for their strength and durability while also allowing for a natural-looking restoration.
---
Gold Alloys
These may be used when more strength is needed, particularly for patients who grind their teeth at night.
---
Base Metal Alloys
These are strong and corrosion-resistant and are often used when there is less existing tooth structure available to support the crown restoration.
---
Frequently Asked Questions for Dental Crowns
---
What are dental crowns?
---
Dental crowns are one of the most common restorative treatments to fix damaged or decayed teeth. Crowns are versatile and can be used to fix everything from a cracked or chipped tooth to improving the appearance of a discolored or misshapen tooth.
A crown is a tooth-shaped cap that encases the entire visible portion of the tooth. Crowns are made from porcelain, ceramic, metal, or a combination of these materials.
What problems do dental crowns fix?
---
A dental crown may be needed in the following situations:
When a tooth is fractured

When a large cavity threatens the ongoing health of a tooth

To protect a weak tooth from fracturing

To restore a worn down or broken tooth 

To secure a dental bridge 

To cover misshapen or discolored teeth
What is the procedure for getting a dental crown?
---
Except for very specific cases, Dr. Roisman is one of the few dentists in Connecticut who offers one-day crowns. While, in most offices,  crowns are generally prepared at the first visit, followed by the fabrication of a temporary crown to wear for the 2 weeks that the crown is made by an outside dental lab- Dr. Roisman's office incorporates digital scans rather than physical impressions which are transmitted to a Cad-Cam mill in his office which sculpts your new crown (after it is designed on proprietary software for your specific tooth and bite) in an hour. You will leave the same day with your permanent crown in place,
Preparing a tooth for a crown takes about an hour, depending on the amount of tooth structure to be removed. Any decay will be removed from the tooth, and it will then be shaped so that the crown can fit over it.
If necessary, the tooth may be built up with filling material to enable it to accommodate the crown. After a digital scan of the prepared tooth,  The patient is then dismissed for about 90 minutes while the crown is designed and fabricated. The patient will then return (after about an hour and a half)  for a second (same day) short visit during which Dr. Roisman will ensure that the new crown looks natural, fits well, and perfectly incorporates into your mouth and bite. Your permanent crown will then be bonded permanently into place.
How should I care for my crown?
---
Crowns are strong and durable and generally last for many years, but they can chip or break under excessive force. You should avoid biting down on hard candies or other hard foods, as these can chip or break your crown.
Proper care and hygiene are critical to ensure the longevity of your crown. As with a natural tooth, proper brushing and flossing are essential for the long-term success of your crown. You should clean your crown just like any other tooth by brushing and flossing daily, using non-abrasive fluoride toothpaste to maintain good oral hygiene.